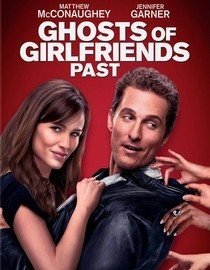 This movie has alot of the same ties as the Christmas carol because he has his uncles ghost to visit him and three women one being a girl her had a relationship with in the past who show him the past, present, and future of his life. This guy Connor (Matthew McConaughey)is a playboy and intentionally screws women over by sleeping with them and moving on but until these ghosts show him his life of how it was and how its gonna be he didn't realize the woman he had always loved was right in front of him. This is a really great movie kinda starts off a little slow but shows a good storyline to it and you never get lost in it thankfully. It even shows how his family life was and is and how close he is with his brother who is getting married. Both McConaughey & Jennifer Garner were awesome in this movie I give it 5 stars and its a must see, its funny, heart warming, love story as well.
Ghosts of Girlfriends Past
2009
PG-13
100 minutes
When he attends his younger brother's wedding, playboy Connor (Matthew McConaughey) is troubled to discover that the ghosts of his many girlfriends have come to give him a piece of their mind and teach him a thing or two about true love. As the apparitions visit him, he rediscovers old feelings for the first love of his life. Mark Waters directs this delightful romantic comedy also starring Jennifer Garner and Michael Douglas.
Cast:

Matthew McConaughey, Jennifer Garner, Emma Stone, Lacey Chabert, Michael Douglas, Breckin Meyer, Robert Forster, Anne Archer

Director:

Genres:

This movie is:

Format: