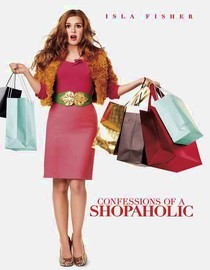 Goin into this movie I assumed it was gonna be about this girls addiction to shopping and only this, but it not only had a girl addicted to shopping but also had a romance unfolding right in front of your eyes, plus was a comedy as well. This was a great movie and I'm glad I didn't let the name prevent me from buying it, and she has so many great points in the movie why she originally turned to shopping over a relationship its so funny but true. Ther is no real big stars in the movie although Isla Fisher was also known in the movie Wedding Daze which I also loved, and the guy Hugh Dancy you might remember from Ella Enchanted as the prince it was still a great story line, and the acting was great. This girl has a bad day all the way around through the weeks the only good thing is she met this handsome man (Dancy) and falls in love after hating him in the beginning... This is a must see.
Confessions of a Shopaholic
2009
PG
105 minutes
With dreams of writing for a top fashion glossy, shopping addict Rebecca (Isla Fisher) begins working for a financial magazine pushed by the same publisher. But as her career skyrockets, she struggles to pay off overwhelming bills -- and manage her love life. Joan Cusack, John Goodman and Krysten Ritter co-star in this glittery rom-com based on the best-selling series of Shopaholic books by Sophie Kinsella.
Cast:

Isla Fisher, Hugh Dancy, Krysten Ritter, Joan Cusack, John Goodman, John Lithgow, Kristin Scott Thomas, Fred Armisen, Leslie Bibb, Lynn Redgrave, Julie Hagerty, Robert Stanton, Christine Ebersole

Director:

Genres:

Comedy, Romantic Comedies, Dramas Based on Bestsellers, Dramas Based on the Book, Buena Vista Home Entertainment, Blu-ray

This movie is:

Format: