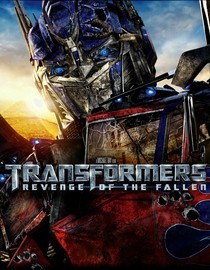 First off I never was like really really into transformers growin up but still thought they were kinda cool, anyways I watched the first transformers movie and loved it. Although my husband gives this one 5 stars its more a 4 star to me. Don't get me wrong it had alot of action near the end but the whole first part of the movie was more of a snooze fest for me. They did leave it open for another one of course.... They had 2 new auto bots but they were about dumb as hell. Optumus Prime dies in the movie although they bring him back he was dead through most the movie and he was my favorite besides Bumble Bee so it kinda takes the main part from the movie I think. I don't know but its a good movie just the same but if your expecting to be better than the first then just save your money cause it isn't.
Transformers: Revenge of the Fallen
2009
PG-13
147 minutes
Unlikely hero Sam Witwicky (Shia LaBeouf) and his foxy girlfriend, Mikaela Banes (Megan Fox), return with tough-as-nails Capt. Lennox (Josh Duhamel) to assist the Autobots in another epic battle against the evil Decepticons in this supercharged sequel to the 2007 megahit. Blockbuster impresario Michael Bay brings his trademark pyrotechnics to the proceedings, while comic whiz Rainn Wilson joins the cast as a college professor.
Cast:

Megan Fox, Shia LaBeouf, Rainn Wilson, Josh Duhamel, John Turturro, Isabel Lucas, Matthew Marsden, Tyrese Gibson, Darius McCrary, Mark Ryan, Julie White

Director:

Genres:

This movie is:

Format: