Just wanted to stop in today while I'm just relaxin today to wish everyone a Happy New Year!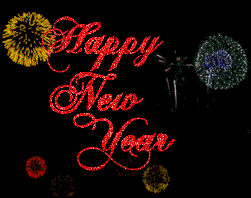 glitter-graphics.com
I plan on startin one of my New Year's Resolutions on the 9th I will be starting back on the slim fast diet/2100 calorie diet/grapefruit diet I should be receiving my bath scale shortly and by then I hope. I may actually keep everyone updated on how my diet is going along the way if ya'll don't mind.
My 2nd resolution is to hopefully get enough sponsors to go to a blogger conference in NC in late Feb.
I have many more along the way but those are the two main ones for now.<
So what's everyone's New Year's Resolution?