This is the last giveaway from Little Kids Inc... Junk Ball & them worked together for this one.






I received the
Players Choice Ball & Bat Set
from
Junk Ball
to review. I thought this was the coolest thing when I pulled it out of the box and thought this would be great with Christmas coming up for any child especially little boy in your life. I let my nephew play with this it is intended for ages 6 and up and he is 14 and he loved that every time he hit this ball it would go a long distance unlike your regular balls. He has never been one big into baseball because lets face it not everyone can hit a home run. With this bat and ball set bein light weight so your younger kids can hold it steady and the ball has holes in it to make it go longer distance now any child can feel like a professional baseball player. We spent hours that day playing baseball me, my niece who is 10 my husband and my nephew had alot of fun with this. Plus it even has professional baseball stars stickers so you can customize the bat yourself which is great for kids. I had never seen a bat so cool for children til this one I actually wish they would've had somethin like this when I was a kid cause now every child that plays with this can feel like a star player. So when your thinkin bout what to buy your kids for Christmas this year look no further than
Junk Ball
.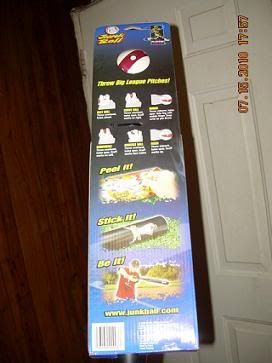 Play the game like your favorite major league baseball player in your own backyard while actually being able to throw baseballs and hit homeruns like they do! Customize your own bat! Each bat and ball set comes with stickers of your favorite players that you attach. MLB Players included:
* Ryan Howard
* David Ortiz
* Alex Rodriguez
* Vladimir Guerrero
* David Wright
* Joe Mauer
Play like the pros! The secret is in the design. The exclusive dial your pitch technology allows anyone to throw curves, sliders, even knuckleballs. It's easy! Just turn the dial to adjust the airflow through the ball and aim the unique scuffmarks!
The realistic high-tech 30" plastic bat with textured grip gives you super home run power! Just add a sticker of your favorite player to the bat, and channel their power! Backyard baseball will never be the same!






Players Choice Ball & Bat Set
- $9.99
Ages 6 and up
Buy Now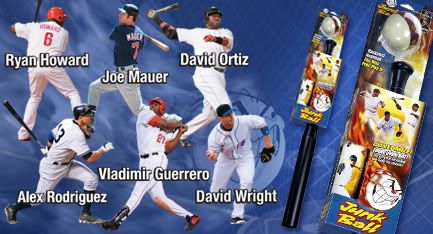 1 Reader Will Win a Junk Ball of there on
Mandatory Entry (This has to be done even if nothing else is for anything else to count)
Who would this be for and how old are they if you won?
PLEASE INCLUDE EMAIL IN EACH COMMENT PLEASE!!! If Your Blogger Account Doesn't Say Your Name Please Post In At Least One Message Thanks! US Only!
Extra Entries:
1)Fan/Like Junk Ball on
Facebook
2)Follow Junk Ball on
Twitter
3)Follow Me Google Friend Connect (3 entries)
4)Subscribe to my blog via email and/or reader (2 entry each)
5)Follow me on
twitter
(leave your link) (2 entries)
6)Tweet about this giveaway and leave me the link to it use @evoluchun in it & @junkball (3 entries)
7)fan me on facebook (enter your email, box on right side of page) (2 entries)
8)Blog about the giveaway on your own blog/gather/website-leave link (5 entries)(once for each post on site)
9)Grab my button and add to your blog/site/social networking/forums - leave link (5 entries)
10)Follow
A To Z Medical Blog
(5 entries)
11)Enter One Of
A To Z Medicals
Giveaways (Leave Link To Which One)(8 entries)
12)Enter Another One Of My Giveaways (Only One Other Counts Leave Link To Which One)(3 entries)
This ends on Oct. 8th at 11:59 pm EST
The winner will be picked by
http://www.random.org/
I received the Junk Ball shown above and no other payment for this. The above is my opinion of the product only. Please come back to my blog when this ends will have a winners post and will email the winners as well please make sure you type your email right so no confusion and you will have 48hrs to respond back to me or another winner will be chosen. Thanks again for entering my giveaways and good luck!