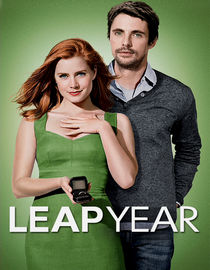 I was so happy to watch this movie tonight cause I know since the first time I saw it previewed I knew I had to see it. I'm a sucker for most Irish movies cause Irish accents are so hot. Anyways this movie from start to end I give 5 stars it was sentimental, funny, sad, and romantic. Amy Adams is a great actress and you will definitely see that just in this movie along. She plays a upty up woman from Boston who goes to Ireland to propose to her fiance who is a cardiologist and truthfully barely knows she exists. She goes through alot to get to him in Ireland with bad storms and all her luck just goes to the worst. She meets a guy who they hate each other from the start until she realizes as much as he does that there is something more there. I won't giveaway the ending but its not like your typical movies the ending that is. Matthew Goode who plays Declan who is hot in every way yummy. Anyways Anna (Adams) & Declan (Goode) go on a journey together in a hate love relationship. This is a must see movie and seriously hope if you ahven't seen it you take the time to. I have already watched it twice in one day I loved it so much. 5 STARS
This is from Netflix Site:
Leap Year
2009
PG
97 minutes
Anna (Amy Adams) chooses February 29 to propose marriage to her "perfect" boyfriend, Jeremy (Adam Scott), sure he'll accept because of an Irish custom. But after meeting charming innkeeper Declan (Matthew Goode) en route to Dublin, Anna must evaluate her original plans. Anand Tucker directs this charming romantic comedy about finding what one really wants in the most unexpected places. John Lithgow co-stars.
Cast:

Director:

Genres:

This movie is: