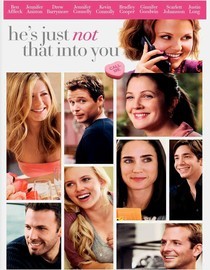 I had been wantin to see this movie for quiet sometime so was happy and couldn't wait another second to see this so I put it in my PC and sat down and watched it right away. Joe lost interest pretty fast cause it isn't a real fast paced movie plus I think women would get this movie more because it is all about what we let guys tell us that makes us think there still interested in us. It really hit the nail on the head with how us women think and how we continue to get dissed by men yet we don't see it and we still wait by the phone for there calls, or really think they want to be with us yet key thing sometimes "He's Just Not That Into You" This movie may not be for everyone but I really do think women would get this and love this movie more. I love the ending of it the most don't want to spoil it for ya'll but you should check it out.
He's Just Not That Into You
2009
PG-13
129 minutes
Jennifer Aniston, Drew Barrymore and Scarlett Johansson lead an all-star ensemble cast of characters dealing with the pitfalls of love and human interaction in this big-screen adaptation of Greg Behrendt's best-selling book. Set in Baltimore, director Ken Kwapis's film moves swiftly between a host of storylines brought to life by a stellar lineup of actors that also includes Jennifer Connelly, Ben Affleck, Ginnifer Goodwin and Justin Long.
Cast:

Jennifer Aniston, Scarlett Johansson, Jennifer Connelly, Kevin Connolly, Bradley Cooper, Justin Long, Ginnifer Goodwin, Drew Barrymore, Ben Affleck, Kris Kristofferson, Corey Pearson

Director:

Genres:

This movie is:

Format: