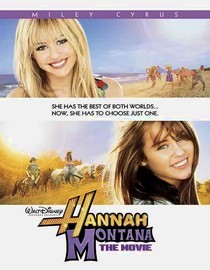 I never watched the show on tv or every got into unlike I did love the movie and show Lizzy McGuire so really wanted to see how this movie turned out cause the trailer looked pretty good. Anyways me and Joe watched this and you go on this adventure back to Miley's hometown in Tennessee and she is so lost she is too much of a cali girl to fit in so she has to learn to be Miley again and not Hannah. She constantly switches back and fourth between bein Miley and bein Hannah to still live her life. Its funny yet carrying and brings alot of great points to kids and adults that sometimes you just got to be yourself. I love she sang the song The Climb in the movie I loved it. Its a love story, a comedy, and a story about family and truly finding yourself in what you do. Definitely a movie to see we give it 5 stars.
Hannah Montana: The Movie
2009
G
102 minutes
When the pop star fame of her secret alter ego, Hannah Montana, becomes too much to bear, Miley Stewart (Miley Cyrus) takes a break and journeys back to her Tennessee hometown of Crowley Corners for a much-needed break from the spotlight. But the pressures of celebrity life prove difficult to escape when Miley is pursued by a snoop who suspects the truth about her identity. Peter Chelsom directs, and Billy Ray Cyrus and Emily Osment co-star.
Cast:

Miley Cyrus, Billy Ray Cyrus, Jason Earles, Mitchel Musso, Vanessa L. Williams, Dolly Parton, Emily Osment, Tyra Banks, Margo Martindale, Adam Gregory, Melora Hardin, Heather Locklear, Peter Gunn, Barry Bostwick, Beau Billingslea

Director:

Genres:

Children & Family, Family Comedies, Kids' Music, Ages 8-10, Ages 11-12, Disney, Buena Vista Home Entertainment, Blu-ray

This movie is:

Format: