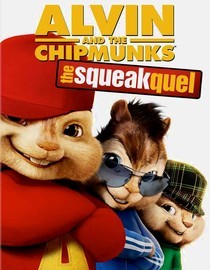 I wanted to see this so bad when I first saw the preview and saw they were bringing back the Chipettes bein they were so my favorite in the cartoon. I grew up watchin the chipmunks and there just so darn cute.... anyways I loved this movie and so did Joe 5 stars all the way had a refreshing new plot to the story and still just a s funny as the first. Its cute how the Chipettes sing newer age songs like Beyonce than old school stuff which the chipmunks stick to more often. All I can say is if you love cute little chipmunks or used to love the cartoon growin up this is a must see. I wish Dave had've had more parts in this movie though he wasn't technically the mail character in this one. They even left it open for another one can't wait.
Alvin and the Chipmunks: The Squeakquel
2009
PG
88 minutes
Alvin (voiced by Justin Long), Simon (Matthew Gray Gubler) and Theodore (Jesse McCartney) are back, along with their careworn manager, Dave (Jason Lee), and this time they have competition: The Chipettes (Anna Faris, Christina Applegate and Amy Poehler), hired by Dave's nemesis, Ian Hawke (David Cross). Cameron Richardson, Zachary Levi and Wendie Malick also lend their voice talents for this good-time live-action/CGI sequel.
Cast:

Jason Lee, David Cross, Zachary Levi, Justin Long, Matthew Gray Gubler, Jesse McCartney, Amy Poehler, Anna Faris, Christina Applegate, Wendie Malick, Kevin G. Schmidt, Cameron Richardson

Director:

Genres:

Children & Family, Family Comedies, Showbiz Comedies, Animal Tales, Kids' Music, Blu-ray, Fox Home Entertainment

This movie is:

Format: