I received 3 natural lip balms from
My Lip Stuff
in the flavors of Peach, Oreo Cheesecake & Banana Nut Bread. I was happy to try these out never have I used natural lip balm before, and its great cause they don't test on animals either. Well I can tell you upfront these lip balms smell so great almost good enough to eat, especially the oreo cheesecake yum. My mo took the peach and my husband took the banana nut bread, we all started using this on a regular basis and not only do you smell the sweet flavors under your nose for quiet awhile but they make you lips nice and soft. Unlike with wax balms these don't feel like there caped up on your mouth or anything, they got a silkier feel to them. The only thing I wish they did have is the flavor as well like you can find in other lip balms that smell great, but that's just a minor thing to worry about. They have over 500 different flavors on there site so its great for anyone no matter what your taste is or smell either way. About 100 of there 500 flavors have flavor (sweetened).
If you use the search feature at the store - keyword sweetened, or sweet, or stevia -- it will give you most of them. But many of the popular flavors like pink cake, cinnamon roll, cake & ice cream, pancakes & syrup - are sweetened.
My Lip Stuff
has really changed my mind about natural lip balms now although I use them alot it still takes me a couple months to need more but I will definatly be keeping them in mind from now on out and I hope ya'll like them as much as I do. They also sell Body Butters, Bath Salts, Linen Sprays, & so much more! You also can have the label customized for weddings, baby showers, and other parties as well. Both my mom and husband love these as well and seriously up until this point my husband refused to use lip balm so this company has accomplished something I have tried 10 years to get him to do ha ha. Thanks to
My Lip Stuff
his lips are kissably soft as well.






All prices range from like $3.00 up check out the store
MY LIP STUFF STORE
also can buy
6pk sets
for $13.00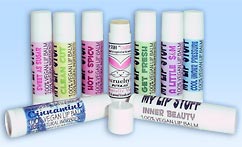 a random 6 pack of lip balms ($13 value)to one lucky reader
Mandatory Entry (This has to be done even if nothing else is for anything else to count)Go to
http://mylipstuffstore.com/catalog/
and come back and tell me a flavor or flavor set you would like to try?
PLEASE INCLUDE EMAIL IN EACH COMMENT PLEASE!!! If Your Blogger Account Doesn't Say Your Name Please Post In At Least One Message Thanks! US Only!!
Extra Entries:
1)Follow Me Google Friend Connect (5 entries)
2)Subscribe to my blog via email and/or reader (3 entries each)
3)Follow me on
twitter
(leave username)
4)fan me on facebook (enter your email, box on right side of page)
5)Tweet about this giveaway using @evoluchun in your tweet (post link in comment)
6)Blog about the giveaway on your own blog/gather/website-leave link (6 entries)(once for each post on site)
7)Grab my button and add to your blog/site/social networking/forums - leave link (3 entries)
8)Follow
this blog
will be up and running soon just getting members now it will be for posting your giveaways on, reviews of more adult nature, reviews, and other stuff like that. (2 entries)
9)Go and
Download my Toolbar
to keep up with my blog and to be able to chat and send messages as well. (4 entries)
10)Take My Blog Survey
Click Here to take survey
(4 entries)
11)Follow
this blog
will be up and running soon just getting members now it will be another review and giveaway blog. (2 entries)
This ends on May 5th at 11:59 pm EST
The winner will be picked by
http://www.random.org/
I received 3 my lip stuff lip balms shown above and no other payment for this. The above is my opinion of the product only. Please come back to my blog when this ends will have a winners post and will email the winners as well please make sure you type your email right so no confusion and you will have 48hrs to respond back to me or another winner will be chosen. Thanks again for entering my giveaways and good luck!